The ever-evolving needs of businesses combined with the increasing complexity of companies' requirements make designing office spaces, in today's work culture, a complicated task. Innovation is a key focus for many with rapidly emerging technologies and demand for wellness based design.
As businesses continue to move away from the traditional, corporate office design that characterises past generations, workspaces are becoming increasingly diverse, unique and determined by individual tastes and brand identities. Below are the top key trends for office design to look out for in 2020:
1. Modern Modular Offices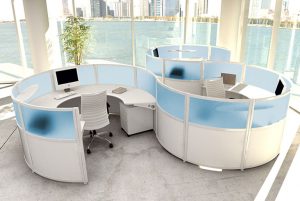 The open plan office has been an ongoing trend for the past couple of years and it isn't going anywhere. If anything, it is set to grow even further as business look for more ways to provide their employees with a more personalised and private environment.
Modular office spaces are based around functional furniture such as project tables, drawing desks, isolated phone booths, community benching workstations and sit-standing desks, which allow for the required privacy to focus on important tasks whilst allowing employees the freedom to be creative, remain active and persist in being productive.
2. Striking Sustainability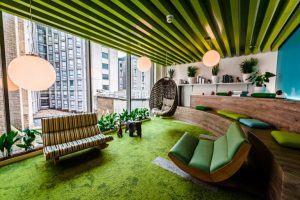 Sustainability in design has recently become an essential requirement within office environments and not just a design option. More and more businesses are moving away from the sterile and impersonal office to create energy efficient, inspirational and wellbeing-focused community spaces, whilst encouraging their employees to reduce plastic waste, recycle and save energy where possible.
For example, sustainable fabrics are expected to move into office workspaces in 2020 as businesses look to remove synthetic, man-made materials in favour of more sustainable, low emission, animal-friendly fabrics such as organic cotton, bamboo, recycled wood and re-purposed plastics, to establish a more harmonious atmosphere between nature, buildings and those that work within it.
3. Remote Community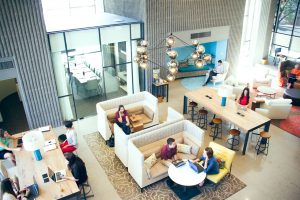 We are living in an increasingly digital world which is only set to grow, especially within business, as employees become more mobile with 70% of professionals working remotely at least one day a week, while 53% work remotely for at least half of the week. For this reason, workspaces will develop in 2020 to be more adaptable and reactive than ever before which can be done either using reconfigurable furniture which can be adapted, moved around and reshaped around the space according to task and requirement or through using a community shared space.
Community office spaces are popping up all around the country with a recent one opening in the West Midlands, based on a Russian concept called Ziferblat. This community space is centred around the idea that it is a relaxed environment open to all which you can use as a coffee house, workspace or lounge with unlimited hot and cold drinks, snacks, games and entertainment as well as quiet spots. It works on the notion that everything is free except the time you spend there, so you just pay per minute for the time you are there.
4. Home From Home Environment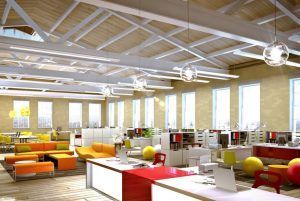 It is no great secret that our private and professional lives are increasingly becoming intertwined with more time being spent at the office than ever before. Workspace design is reacting to this ongoing cultural shift by introducing things such as social spaces, work cafes, games rooms, rejuvenation zones and even meditation areas.
Furnished kitchens, flower pots, comfortable sofas and area rugs are all being incorporated into modern office design to make it feel more like home, benefiting employees and businesses in two ways: by introducing required amenities, it creates a more welcoming and relaxed environment in which to work while those who frequently work from home are attracted back into the office by creating a space where employees can engage with their teams.