What is ColorLok®?
ColorLok Technology is the new standard for better print quality. Paper that's qualified with the ColorLok logo is able to produce the best possible digital prints. The ColorLok standard of performance is for plain-paper output with inkjet and laser printers, as well as common copy machines. As such, ColorLok papers will provide consistent and reliable printing regardless of which machine is used within an office environment.
ColorLok® Technology
The science behind ColorLok Technology results in more saturated colors, bolder blacks, and faster drying times. During the paper-making process, a chemical additive is incorporated into the paper to "lock" pigments at the surface. Without this technology, paper acts more like a sponge, absorbing black and color pigments deep into the paper and away from the surface.
How Does it Work?
The ColorLok additive is incorporated into the paper during the paper-making process and produces a chemical interaction with the pigment in the ink. This helps to hold the colorant near the surface of the paper, while the water absorbs deep into the paper fibers. What results is a highly-absorptive and fast-drying product. Pigment particles are the colorant used in many inkjet inks for home and office printers. Pigments are suspended in a colorless liquid, called the ink vehicle, which rapidly immobilizes pigments at the paper surface.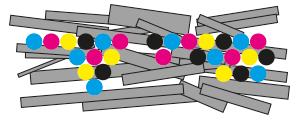 When ink touches the surface of ordinary paper, pigment particles are absorbed deep into the porous sheet, thereby reducing optical density.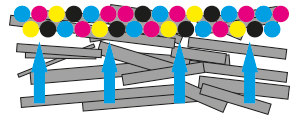 With ColorLok Technology, the ink vehicle penetrates the surface of the paper without transporting the pigment particles into the paper.
Standard paper When ink touches the surface of ordinary paper it spreads along the paper fibers causing a 'feathering' effect.
ColorLok paper Color appears richer, more saturated and vibrant because the ink particles separate from the vehicle, before they are absorbed into the paper.
Standard paper Black text appears grey because much of the ink has saturated deep into the paper fiber, leaving less intensity on the surface.
ColorLok paper Black pigments are removed from the ink vehicle and remain concentrated on the paper surface, resulting in denser blacks with sharper edges.