Since Monday, the UK has banned people from leaving their homes apart from for a few very limited reasons – this means the majority of us are now working from home until the foreseeable future.
If you're lucky enough to have a home office – you're in the minority. Rather than office desks and chairs, people are having to choose between sofas, beds, kitchen tables or the floor, moving less than ever before in smaller spaces. Over a prolonged period of time, this could have a devastating impact on our bodies and wellbeing so follow our tips below to make the best of your situation:
1. Get Dressed & Stay Focused
The prospect of staying in your pyjamas all day and working from bed sounds absolutely amazing but it soon wears thin. Getting up, having a shower and getting dressed, as per your usual routine, will help motivate you to start work and improve your state of mind. Also, wearing respectable clothing when you have to dial into a video call with your team or customers is always useful!
During this time of isolation, it is best to stick to your set hours of working, as much as you possibly can – be ready to start your day, as you normally would arrive at the office, and finish your day at the same time. Sticking to a routine is the most important thing to do while working at home and at the end of the day, it's best to switch off your computer and tidy away paperwork and other items so you can adjust to finishing the working day and taking some time to relax.
Working from home shouldn't mean you are cooped up indoors all day. Put your shoes on, get outside in your back garden or do your one bit of exercise for the day around the block or at a local park so you can enjoy the fresh air. It will help undo mental blocks and give you some thinking space to view your work with a fresh pair of eyes when you get back to it.
4. Communicate with Friends, Family & Colleagues​
If you're working from home, the chances are you'll be alone, so you won't get distracted by colleagues' conversations and other office noise. When you're at work, you are more likely to engage with colleagues but working from home means you could be spending the whole day without speaking to anyone which can feel very isolating and lonely.
Ensure you keep into regular contact with your manager and other colleagues via phone, email, video call or Microsoft Teams to retain some form of normality to your working day. After the working day is over, make sure you take some time to call friends and family to starve off loneliness during this period of time.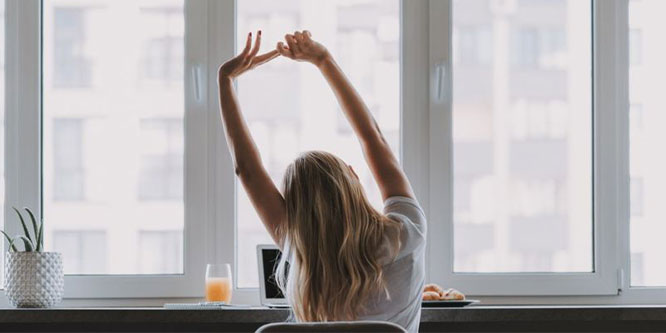 While it's good to maintain a routine when you're working from home, work shouldn't be continuous – staying glued to your screen all day is definitely not good for your body or your mental wellbeing. It is important to take regular screen breaks and get up from your desk to move around just as you would in an office – make a cup of tea, have some lunch or get out in your back garden for some fresh air.